Warning:

The Axe Gang are not for the easily offended, politically correct or deeply religious minded. The opinions expressed are those of the Axe Gang only and do not reflect the views of Axe Radio.com. Read the Axe Gang's Madness & Mayhem at your own risk!
The Axe Gang's Elektric Meatballs
The Elektric Meatballs are a group of comedy writers who have written for various movies, TV Shows, Comedians and radio personalities. They'll be here weekdays to drop bombs and put their stank on the weeks hot topicality. Contact the Elektric Meatballs at

AxeRadioRocks@aol.com

. They're fun at parties!
Bend Over! Here's Your Spicy Meatballs!
The meat tweeting Anthony Weiner is running for Mayor of New York City but his website campaign banner debuted with a picture of the Pittsburgh Skyline. Maybe he is qualified to be Mayor after all because at least he recognizes Pittsburgh is a hell of a lot nicer than New York! McDonald's has offered Charles Ramsey, the Cleveland kidnapping hero free burgers for life but he'll have to pay for his own fries and shakes. He Be Hatin' It!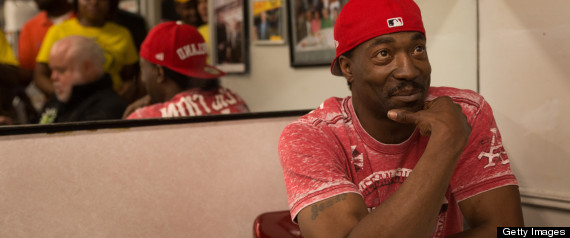 It only took 18 years but Kato Kaelin has finally admitted it was O.J. Simpson who killed his wife Nicole Brown-Simpson and Ronald Goldman. Kato said the reason he didn't tell the truth sooner was because he was terrified. Guess who won't be invited to the Goldman family reunion this summer!
View host Barbara Walters is reeling after her 44 year old daughter Jacqueline Walters Danforth was arrested for a DUI in Florida and was abusive to the arresting officers! She was so drunk she thought she was Reese Witherspoon!
We want to put a stop to the rumor that Pain & Gain actress Rebel Wilson is NOT the illegitimate love child between Kirsty Alley and the Pillsbury Doughboy!
Motley Crue's Nikki Sixx is pissed Kim Kardashian was tweeting about her tanning products to her 17 million followers during the devastating tornado's in Oklahoma. Wait until Sixx finds out
Kim has never heard of him because he's not a wealthy and famous black dude!
Apple reportedly paid very little tax on billions of dollars in profits by legally holding money in Irish subsidiaries. Go sick'em tax dawg Obama!
Ray Manzarek who co-founded The Doors with Jim Morrison died at the age of 74 from cancer. It's probably safe to say this is one door closed that won't open another! R.I.P Ray! Thanks for lighting our fire!
It's official, Seth McFarlane won't return to host the Oscars next year. After noodling who should host, if it's not Seth, the clear choice is TED!
Some lucky bastard from Florida won the $590 million dollar Powerball. What part about waiting for it to reach "One Billion Dollars" did you not freakin' understand you big piece of hairy monkey dung?
A new national poll shows 53% of Americans approve of the job the Reverend Obama, is doing as President while 45% disapprove. The poll has a 100% margin of error!
Yahoo is plunking down $1.1 billion dollars for the popular blogging platform Tumblr.
WAHOO!
Courtney Stodden who became famous for marrying 50 year old actor Doug Hutchinson when she was 16 announced she has a sex tape that she shot solo shortly after her 18th birthday. It's okay if you feel the urge to drop trow and pound thy pud, even if you don't have one!
Chaz Bono, is famous for having famous parents (Sonny & Cher) and for having a sex change operation turning her into a man. Chaz, announced he/she has successfully dropped a whopping 65 pounds! Unfortunately Chaz will gain 10 lbs back when they attach a dick!
The Axe Gang's 1st Annual Camel Toe Week Starts Monday, June 3rd. Maybe we can get one last Toe from Chaz!
Come Back Tomorrow For More Meat Sauce!
The Dirty Old Bitch
When The Dirty Old Bitch Drinks...She Says What She Thinks!
"It's Memorial Day Weekend! As usual Americans confuse a time to honor our veterans by getting smashed on their ass, fucked silly and diseased up. Have fun with that"!
By Holly Woods
Weekend of May 17-19, 2013
1. Star Trek Into Darkness
2. Iron Man 3
3. The Great Gatsby
4. Pain & Gain
5. The Croods
New This Week:
Fast & Furious 6- Hangover III- Epic
Coming Soon:
After Earth- Now You See Me
New on DVD/Blu-Ray:
Texas Chainsaw
If It's A

"Smash"

...See It! If It's A

"Trash"

...Flee It!
Fast & Furious 6 -
"Smash"
- Hangover III -
"Trash"
Sex Talk with Dr.Dylan Kock
My name is Kock, Dr. Dylan Kock and I'm here to answer your questions about sex. No topic is off limits so feel free to shoot me an e-mail at

AxeRadioRocks@aol.com

and lets explore what's on your dirty little minds. New topics are posted on Monday & Thursday!

Tina from Katy, TX
Dear Dr. Kock,
My boyfriend is into wild sex and I'm more into slow and passionate love making. How can I break it to him that I don't like it when he jack hammers me?
Men like what they like Tina and unfortunately if he doesn't get wild sex from you, odds are he'll get it somewhere else. That doesn't mean he won't meet your request and your needs but when there is a lack of chemistry in the bedroom for either partner, studies show they will eventually try to fulfill their need with someone else. My advice is to be honest with him by saying you want to spend some time making soft passionate love mixed in with him being a jack hammer!
KOCK TEASER:
What percentage of happily married men and women cheat on their spouse? A: 28% of Men and 28% of Women.
Sean "Footlong" Flanagan's Off The Top
This is where fans drop by to get my daily sports shorts and timely sports commentary! Get fresh articles every Wednesday & Saturday here on Axe Radio.com with The Axe Gang!
SPORTS SHORTS
* Detroit is schooling the once unbeatable Chicago Blackhawks and lead their NHL playoff series 3-1. It's anybody's cup with Chicago out of the way!
*

The New York Rangers stayed alive by beating Boston. No rest for the Bruins before they face the Pen1s!
*

The Kings spanked the Sharks to take a 3-2 lead in their series! My dream of a Pens & Kings Stanley Cup Final is still alive...IT'S ALIVE!!!!
*

The Colorado Avalanche have hired former goalie Patrick Roy as their new head coach. His last name is pronounced Waugh. He spells it Roy because he can't spell Waugh!
* Terry Francona returned to his old stopping grounds at Fenway Park and his Indians proceeded to dismantle the Redsox 12-3. Boston Strong aye?


*

Green Bay's Aaron Rodgers says he backs the idea of retiring Bretty Favre's #4. He's not the smartest quarterback in the NFL for nothing!


*

The NBA Playoffs resume Friday with Indiana trying to avenge their near win in game 1 over Miami. The Heat can't afford a split so look for them bring their A+ game!
CLIPPERS TELL DEL NEGRO TO F#*K OFF!
The Los Angeles Clippers have been an NBA laughing stock going all the way back to when they were the Buffalo Braves in the early 70's. They were so bad, they moved to San Diego and changed their name to the Clippers. They were even worse in San Diego, so they relocated to Los Angeles to become the bastard step child to the Lakers in 1984. Since then the Clippers haven't won jack. They have no championship banners and no division title banners hanging at the Staples Center. When you look up the word suck in the dictionary, you might as well see the Clippers logo.
Then they drafted Blake Griffin and signed Chris Paul to run with a bunch of experienced veterans under the guidance of coach Vinny Del Negro, a former player for the San Antonio Spurs. All Del Negro did during his three season was win 128 games, lead the team to their first Western Division title and the most wins in a season (56) in franchise history. Vinny's reward is he gets to go look for another job. Owner Donald Sterling let Del Negro know he wasn't bringing him back for a 4th season on Tuesday partly because the Clippers lost in the first round of the playoffs to Memphis.
Del Negro is the only coach in Clippers history to leave the team with a winning record and this is the thanks he gets? Further proof what a piece of work Donald Sterling is. He doesn't deserve a winning team. The process of winning an NBA championship as has been proven through out the years is a step by step process. Can you imagine if the Chicago Bulls would have fired Phil Jackson after the Bulls lost to Detroit multiple times in the playoffs before finally breaking through? People forget before San Antonio became the winning franchise they are, coach Greg Popovich went through some lean years too. Del Negro has guided the Clippers from laughing stock to fans taking stock for the first time ever and now he's not good enough to coach them. There will be 29 losing coaches this year and 1 winning coach. There are coaches and then there are good coaches and Del Negro, while not perfect is still one of the good ones.
The talk is free agent Chris Paul, manipulated Del Negro's demise simply by saying he was waiting to see what happens. Anyone who can't read between the lines of what Paul meant is a jackass. I for one hope Paul decides to sign elsewhere and the Clippers can return to being the laughing stock of the NBA. Vinny Del Negro will land another NBA job and the team who gets him will be very lucky to have him.
NBA Playoffs Picks 6-6
Eastern Conference
Miami Heat over Milwaukee Bucks- Won
New York Knicks over Boston Celtics- Won
Brooklyn Nets over Chicago Bulls- Lost
Indiana Pacers over Atlanta Hawks- Won
Miami Heat over Chicago Bulls- Win
New York Knicks over Indiana Pacers- Lost
Miami Heat over Indiana Pacers
Western Conference
Denver Nuggets over Golden State Warriors- Lost
Los Angeles Clippers over Memphis Grizzles- Lost
Los Angeles Lakers over San Antonio Spurs- Lost
Oklahoma City Thunder over Houston Rockets- Won
Oklahoma City Thunder over Memphis Grizzles- Lost
San Antonio Spurs over Golden State Warriors- Won
San Antonio Spurs over Memphis Grizzles
NHL Playoff Picks 5-3
Eastern Conference
Pittsburgh Penguins over New York Islanders- Won
Montreal Canadians over Ottawa Senators- Lost
Washington Capitols over New York Rangers- Lost
Boston Bruins over Toronto Maple Leafs- Won
Pittsburgh Penguins over Ottawa Senators
Boston Bruins over New York Rangers
Western Conference
Chicago Blackhawks over Minnesota Wild- Won
Anaheim Ducks over Detroit Red Wings- Lost
San Jose Sharks over Vancouver Canucks- Won
Los Angeles Kings over St. Louis Blues- Won
Chicago Blackhawks over Detroit Red Wings
Los Angeles Kings over San Jose Sharks
That's what's up in Sports and always remember to keep your eye on the ball!
AXE Radio Nottie Hotties Of The Day~
Axe Radio.com - Los Angeles


E-Mail: AxeRadioRocks@aol.com
(818) 851-1473
Meet The Axe Gang
Mark "Axe" Elliott - Head Mofo
Jason Skrew- Rockaholic
Latashja The Mother of Rock - Axe Rock Report
Max Khaos- Axe Rock Reviews
The Elektric Meatballs- Comedy Hacks
The Dirty Old Bitch - Smack Talkologist
Holly Woods- Entertainment Ho'
Sean "Footlong" Flanagan- Sports Guru
Dr. Dylan Kock- Sexologist
John Reilly- Voice of Rock
Allison Crawford- Voice of Roll
Ellen Portilla- Webmastress
Jason "Zeus" Jackson- Social Wizbanger
Alex "Fuzzy" Ballzack- Sunday Back Tracks
Axe Radio Production Flunkies & Junkies
Ed LaComb & Rob Fiorino
Digital Sound & Video
Ormond Beach, FL